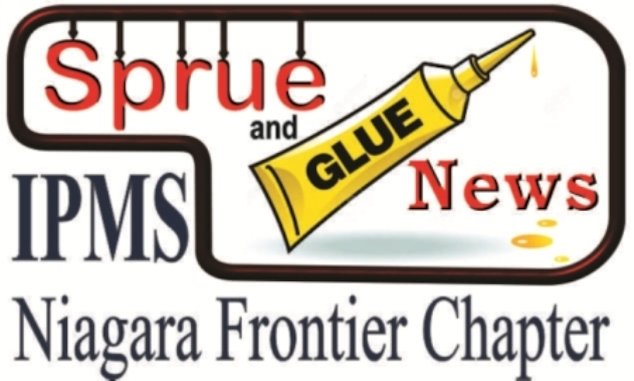 ---


Greetings modelers!
The annual "Tony Bartozek I'm Not A Modeling Loser" challenge is up and running with 29 entrants this year. With the deletion of the Tim Horton's Cards as entry fees, this should take the pressure off as there's no fear of losing any money - only your pride! Here is a list of the entrants and their builds:
Justen Hanna - "Petit'gguy" (Are you kidding me?)
Joe Szyczygielski - "Petit'gguy" (Are you REALLY kidding me?)
Josh Keenan - 1/72 AH-1S Cobra helicopter
Todd Habscheid - Dark Heaven "Orc Berserker"
Dave Safe - "1977 AMC Pacer Wagon"
Mike Hall - "Slambo"
Mark Budniewski - "Revell Foose '56 Ford Pickup"
Clint Keidel - "Tamiya P-51B Mustang"
Mitch Hoffman - "German Bergepanzer Hetzer - Late"
Samantha Hanna -"Vampire Count's Black Coach"
Gene Paveljack - "1917 Model T Australian Army Car"
Rick Macdonald - "Airfix 54mm Scots Grey"
Bill Borkowski - "Tamiya USAF Bell X-1 1/72nd"
Matthew Krygier - "Flintstone's Flintmobile"
David Krygier - "Rocketship X-M"
Piotr Gajowka - "Bearcat"
Jacob Gadek - "Moebius Halloween"
Mark Gadek - "Arma TS-11 Iskra"
Cindy Gauthier - TBD
Jason Ignatjew - "1965 Plymouth Belvedere"
Mike Szadek - "Super Club Floatplane"
Al Germann - "DFW-28 Floh WWI Biplane"
Brian Yurko - TBD
Jeff Usiak - "120mm 'Nam Door Gunner"
Tom Faith - "P-39"
Dick Schulenberg - "1/72 Roden FWD Model B 3-Ton Truck w/8" Howitzer"
Nick Carluccio - "1964 Mercury"
Bob Conshafter - "Hasegawa 1/32 P-51 Mustang"
John Zaranek - "Mirage Hobby 1/48 PZL P.11c Polish Fighter 1939"
In other news, members of IPMS Niagara Frontier are contributing to an upcoming display commemorating the USA's entry into "The Great War" at the Buffalo Public Library's main branch on Ellicott Street. The displays will help to enhance their WWI poster displays this forthcoming November and will run for two years. Participating members and the subjects are:
John Zaranek - 1/32 SE-5a and 1/32 SPAD 7 in US markings, possibly 2 1/35 French soldiers
Justen Hanna - 1/48 Sopwith Schneider floatplane in US markings, in small diorama
Al Germann - 1/32 Salmson 2 seater in US markings
Rich Bernecki - 1/32 Hansa Brandenburg W-29 floatplane or 1/32 Junkers J-1
Dan Marafino - 1/32 Sopwith Camel in US markings
Dick Schulenberg - 1/32 Nieuport 17 in Lafayette Escadrille markings and 1/32 Nieuport 28 in US markings
Jim Wolfe - 1/35 Mk IV tank in small diorama and a 1/6 scale German trench raider
Bob Collignon - 1/35 German A7V tank in small diorama and 1/35 trench diorama
If you are participating in the Tony Bartozek Challenge or contributing to the library display, bring in your works in progress for all of us to see at the meeting this Monday night. I hope to see your efforts and will offer any encouragement needed!
That's it for this month - see you at the meeting!
John R. Zaranek
President
IPMS Niagara Frontier
IPMS USA No. 47993
---

Model Tables from the June club meeting:

Samantha Hanna starts us off this month with her first place category winner at Noreastcon last month, the Games Workshop "Skeleton Army". She used the Citadel line of paints and washes to complete them - way to go, Sam!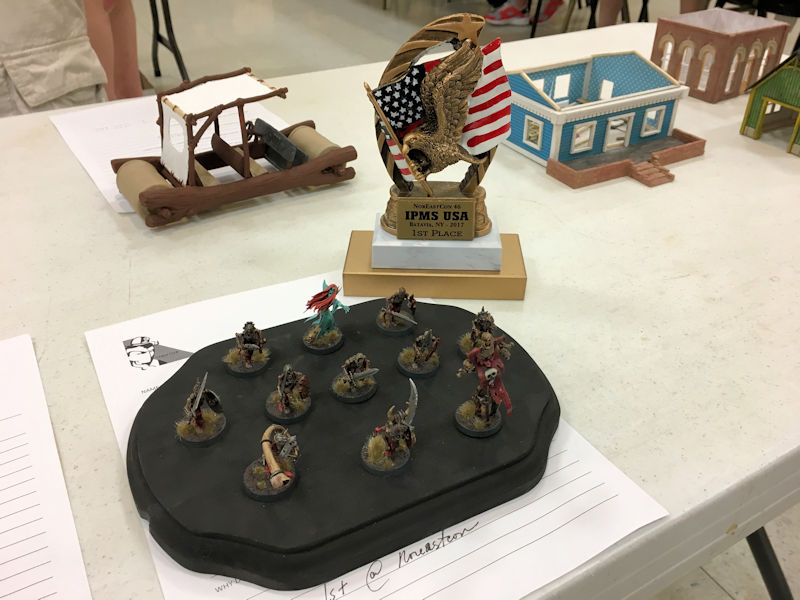 She is also working on her Games Workshop army with the "Flesh Eater", again using the Citadel lines of paints and washes.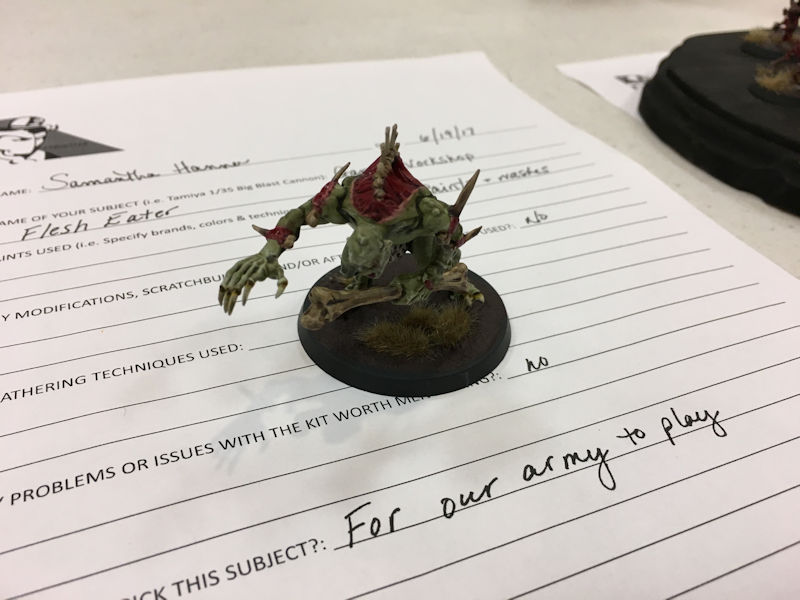 Nigel Usiak finished his Metal Earth Drum Kit, inspired by his taking private drum lessons for the past five years and playing them in the school band. Nigel did not use any paint, preferring to leave them in the natural metal finish out of the box.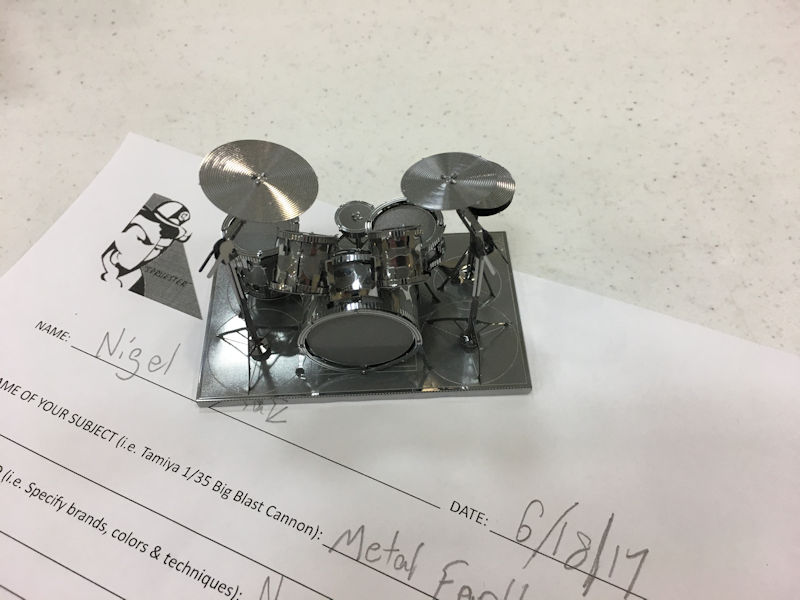 Al Germann continues to work on his "Rainforest Ferrari". Al picked this kit up from a BuffCon vendor and it was missing parts. Inspiration kicked in and he is portraying it abandoned in a rainforest, complete with scratches, flaked/missing paint and rust. He's now working on the vegetation, which he purchased from a vendor at Noreastcon.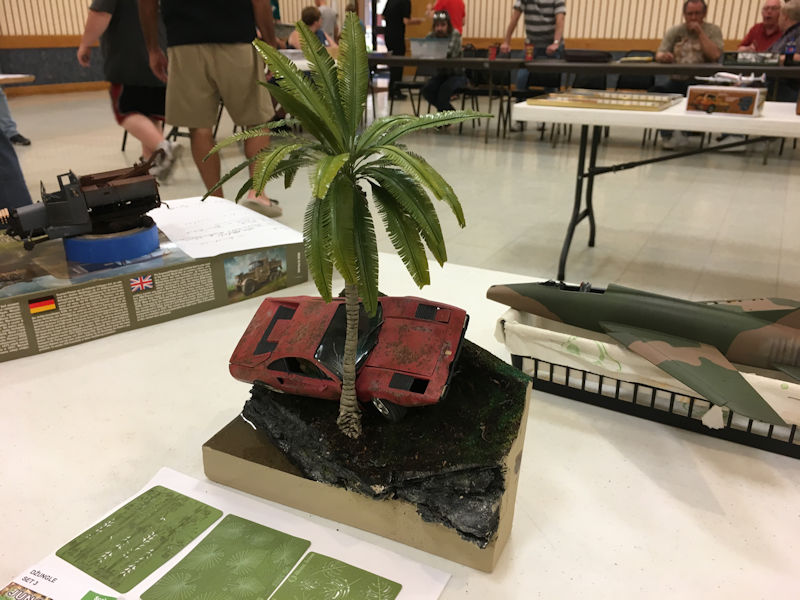 Derek Keenan brought in his Flintstone's "Flintmobile". He used craft acrylics for the paint and highlighted it with the drybrushing technique.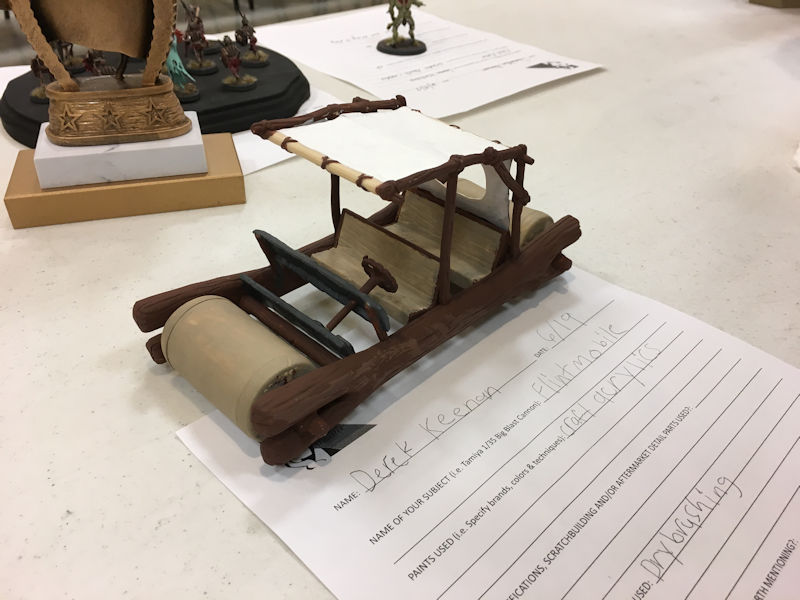 Clint Keidel's "love of Corsairs" inspired him to work on the Tamiya 1/32nd scale kit of the F4U-1 "Birdcage" Corsair. He's used Rustoleum Red Oxide for the "pink" primer and Tamiya and Model Master paints for other areas. He's using the Eduard photoetch cockpit detail set and cloth seat belts.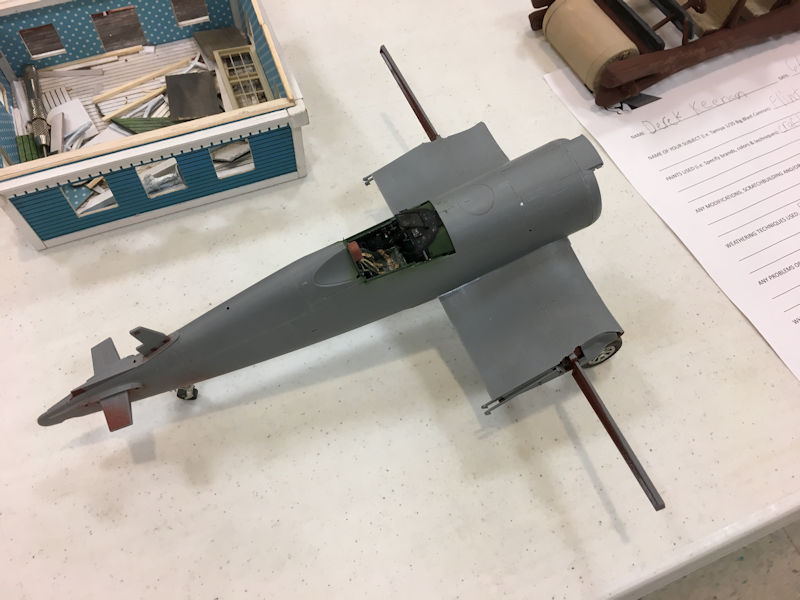 Jason Ignatjew's 1957 "Suddenly Go" Plymouth was finished in Krylon's Sunflower Yellow and the 1958 AMT Ford Convertible was painted with Hobbycraft Periwinkle.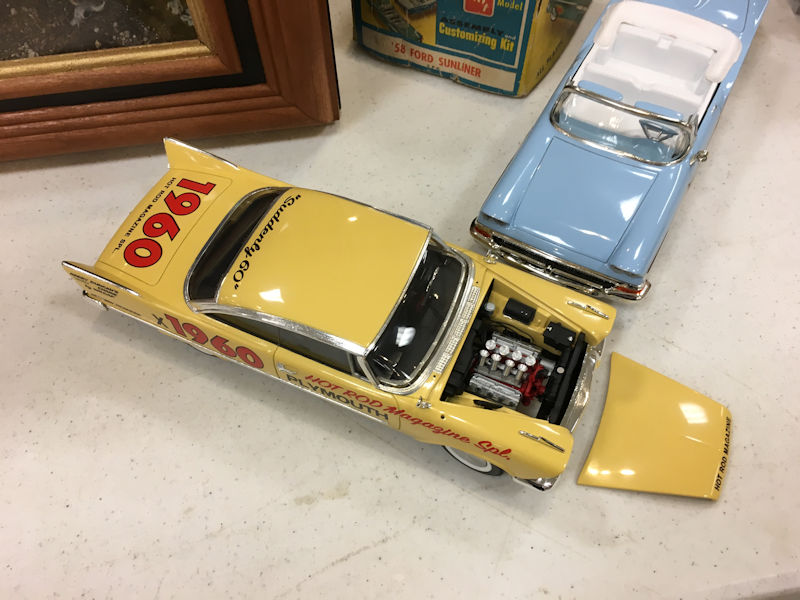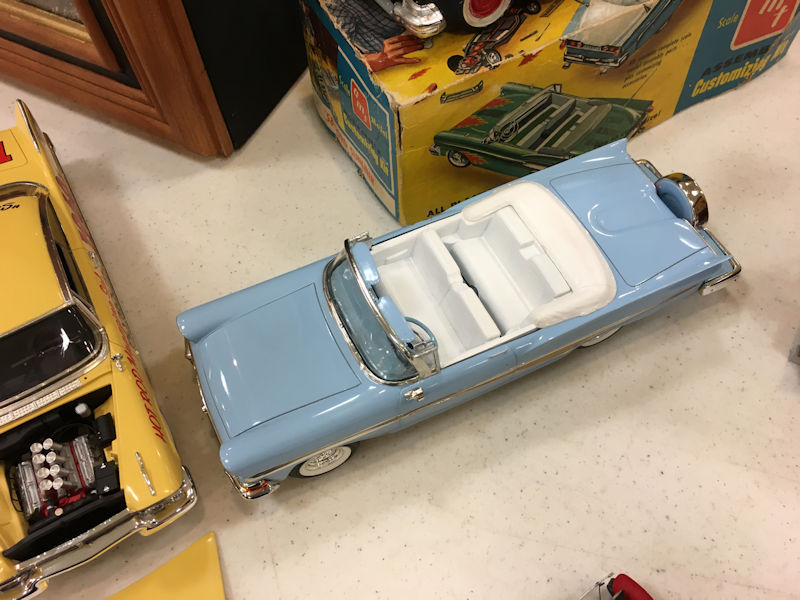 Dick Schulenberg's 1/128th (box scale) scale Revell Constellation Airliner was built "wheels up" as a display model for a friend of his. All painting was done with rattle cans, starting with Tamiya White Primer over which Tamiya Silver Leaf was used. He added no weathering as he wanted it "as clean as I can make it". Dick explains that the kit shows it's age (it's the 1986 re-issue of the 1956 original) as there are lots of lumps where the mold was modified to eliminate separate windows and doors, so there was much filling and sanding to do. He added aftermarket decals.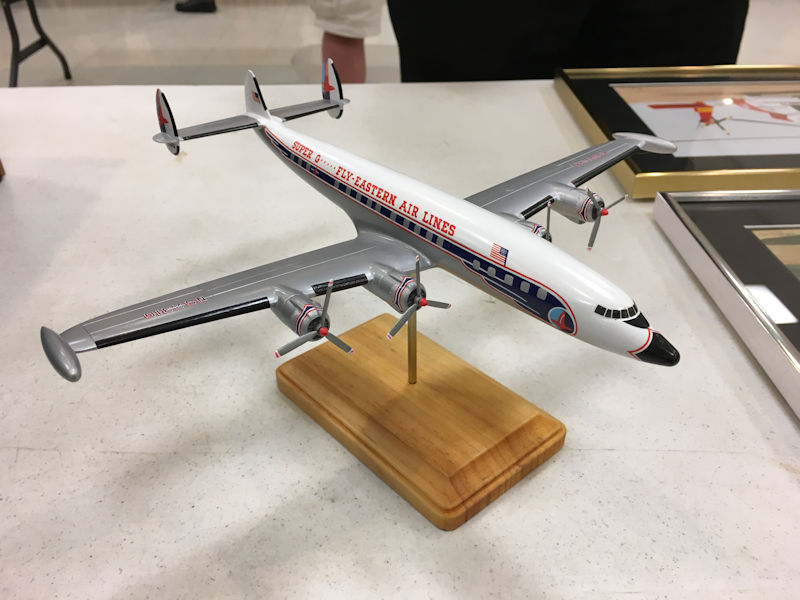 Paul Hines "Art Studio" continues to churn out work. This month it's a PT-17 Stearman from 1943 and a US Coast Guard "Jayhawk" Rescue Helicopter.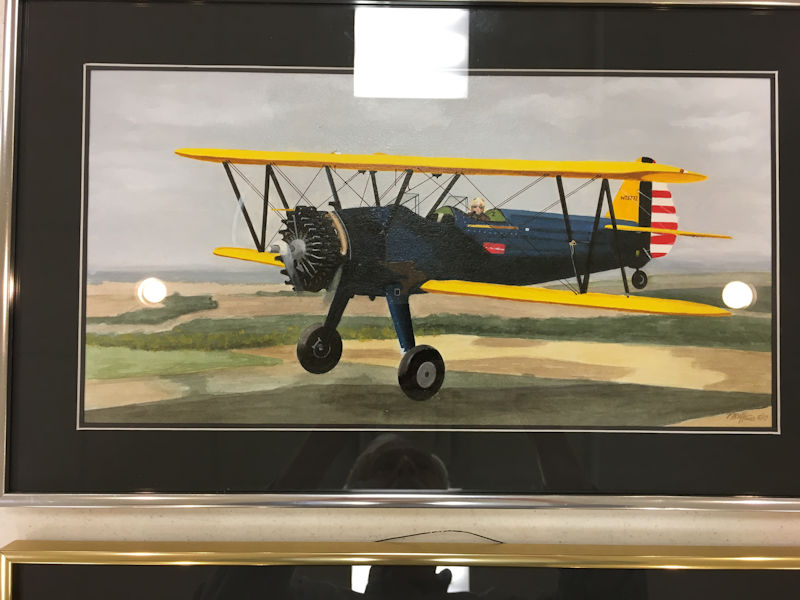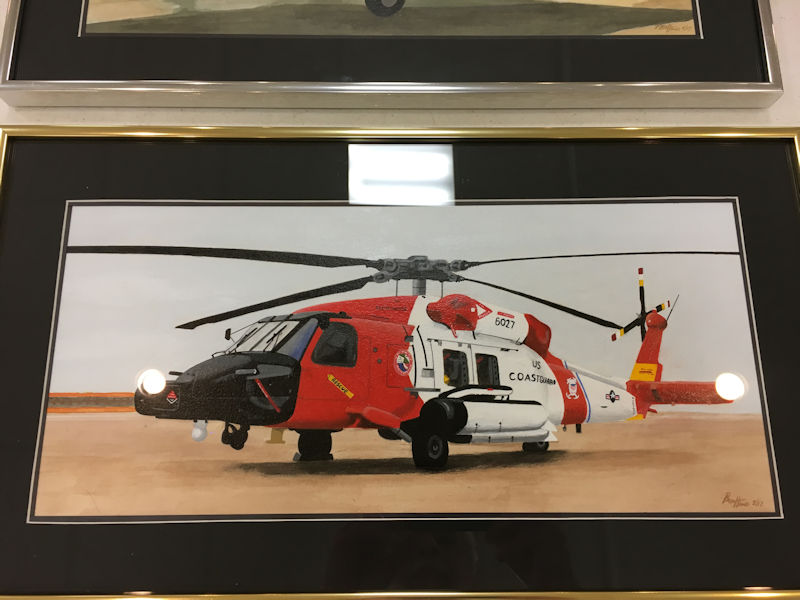 Dave Armitage finished up some HO scale buildings made up of wood and plastic he relates as a pleasant diversion from plastic. He used acrylic paint for the finish and has added barrels and figures to them. The wood floors were "grained" with a saw blade and the roofs were weathered with washes.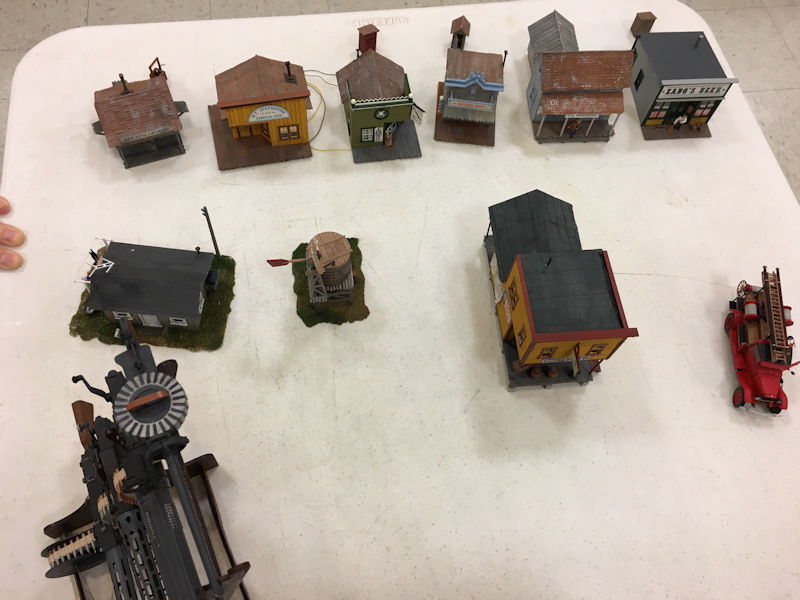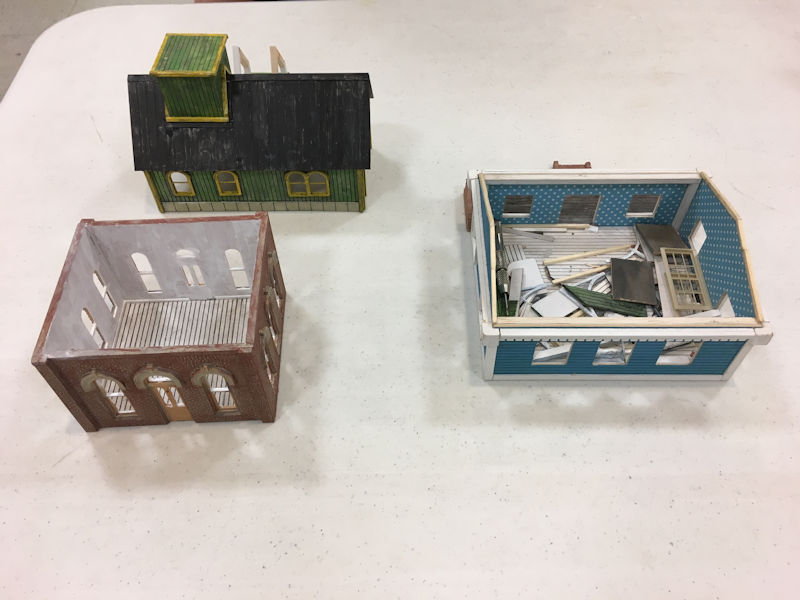 Dave also showed us his ICM kit of a GAZ AA Fire Truck.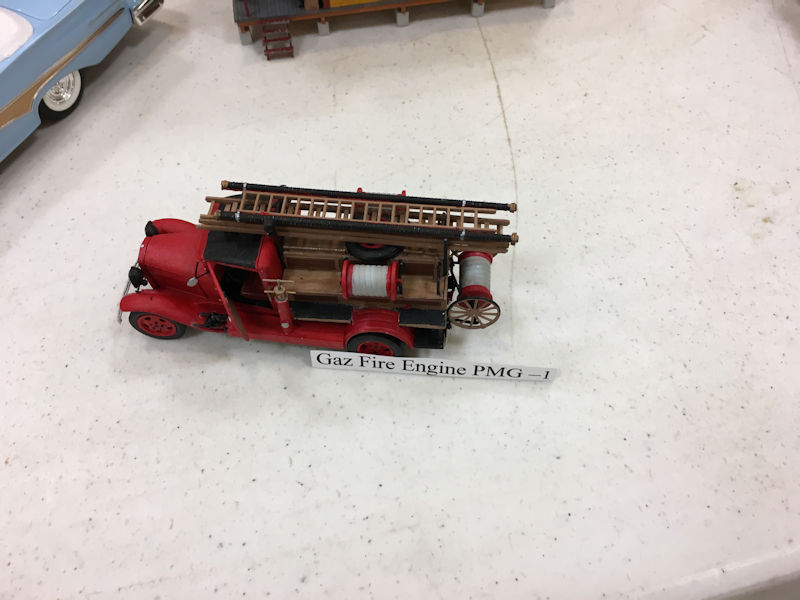 And, 1/6th scale WWI Aircraft Machine Guns.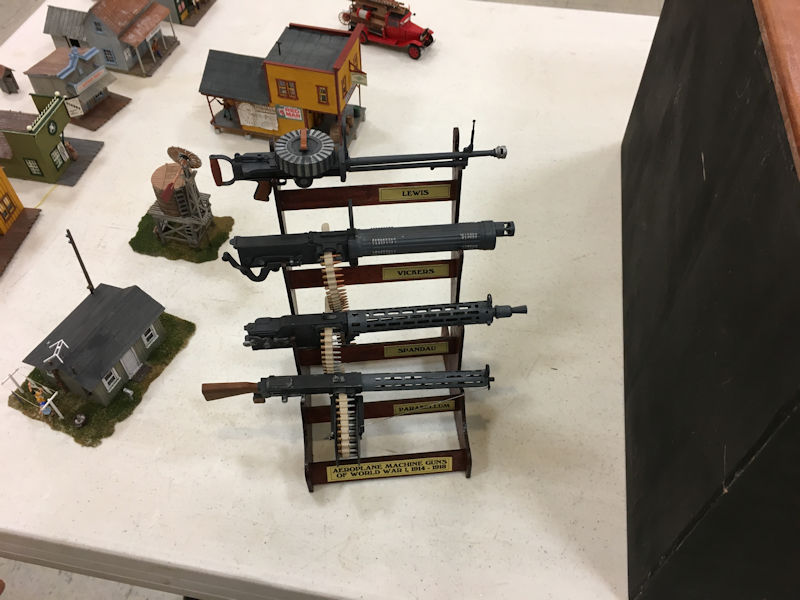 And lastly, a diorama entitled "Bodie, California". He used acrylic craft paint for a majority of the painting and added ground work from gravel, dirt and cat litter. Dave says that this scene is "macabre. The box was home made, the lights and wiring done as work progressed." He obtained the black light from American Science and Surplus.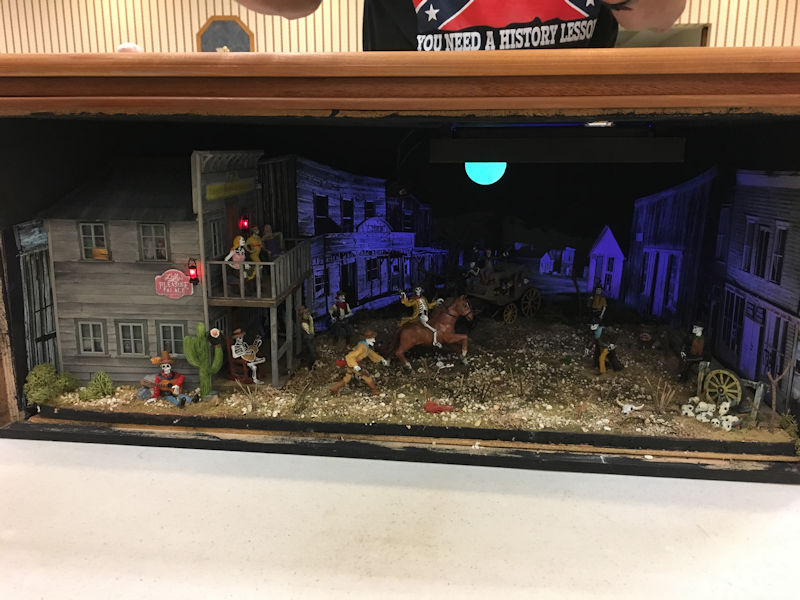 There were a few other items on the tables.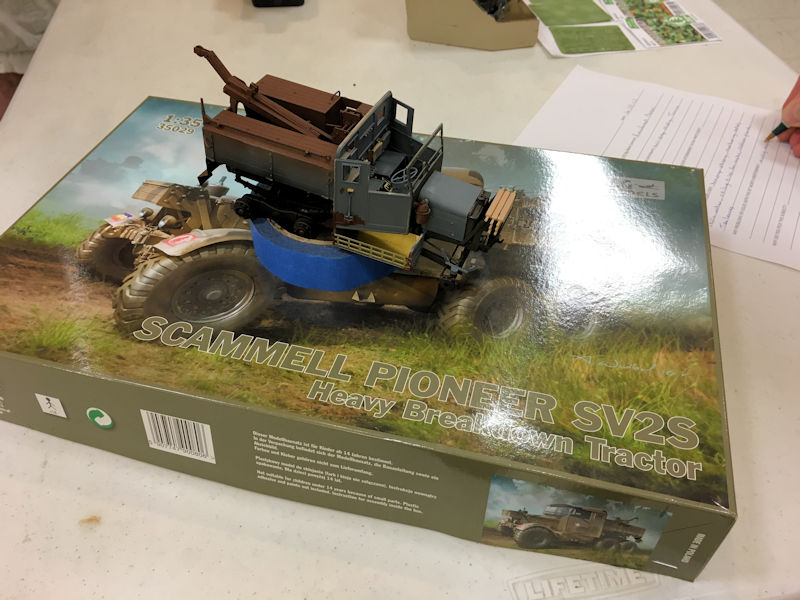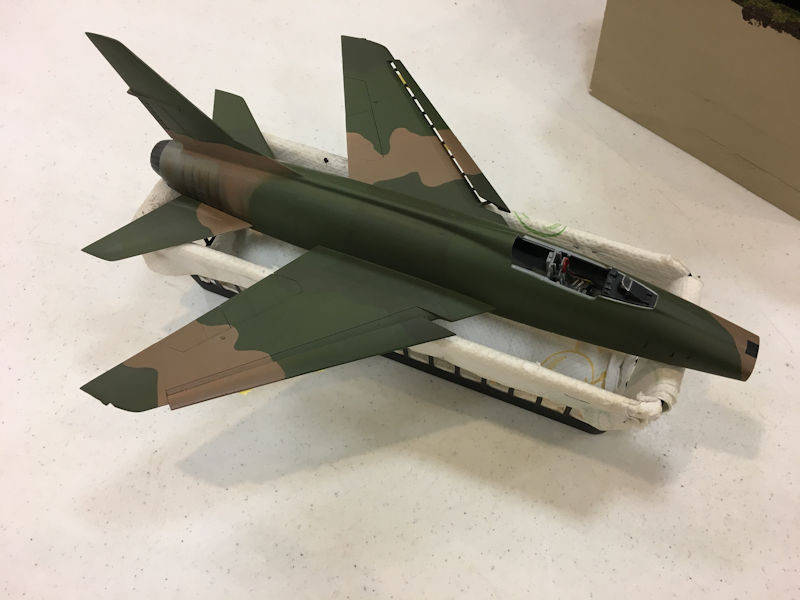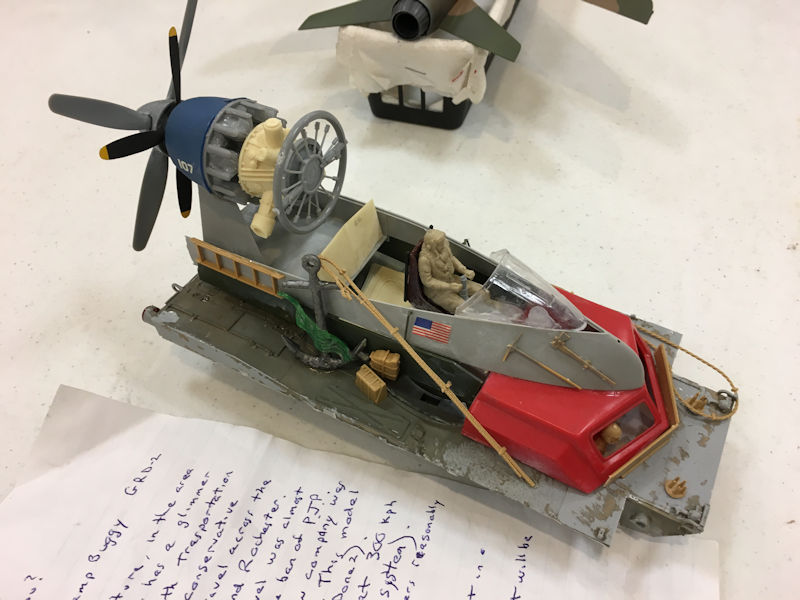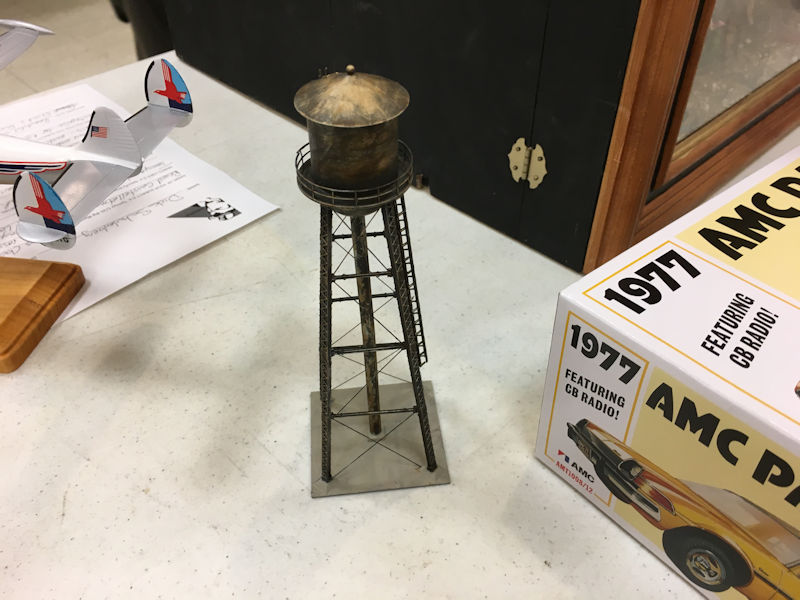 Here are the mug shots of our "Tony Bartozek I'm Not A Modeling Loser" challenge: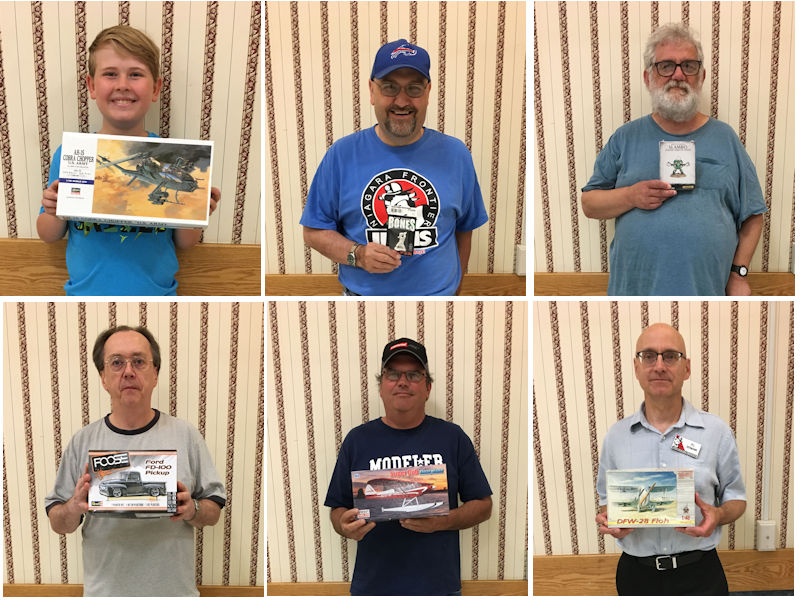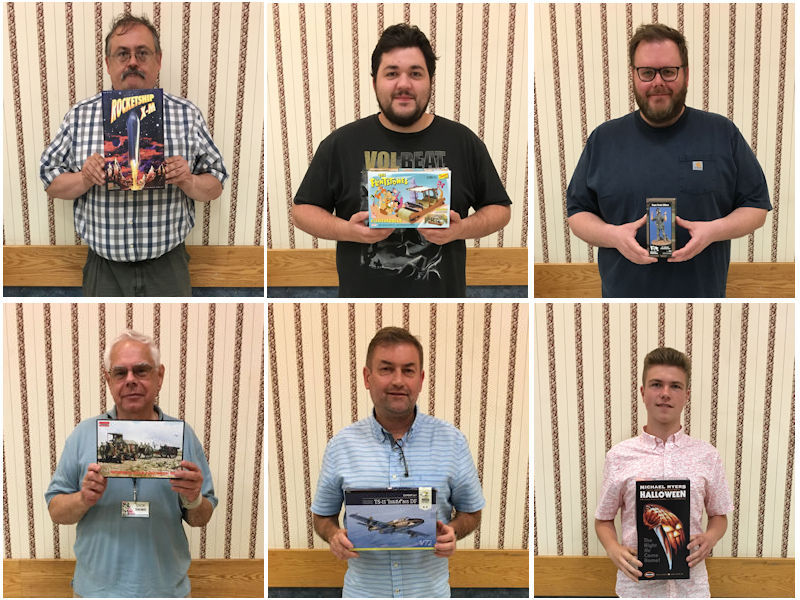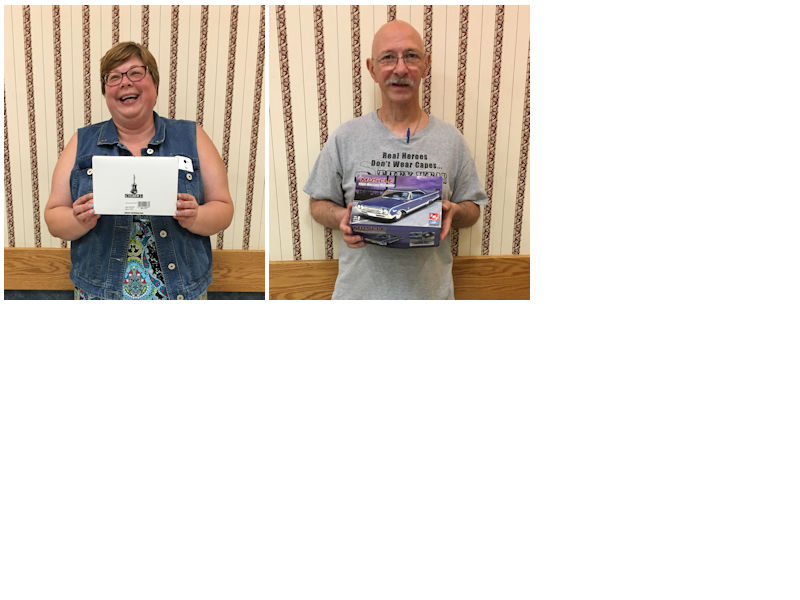 Finally, some around-the-room photos.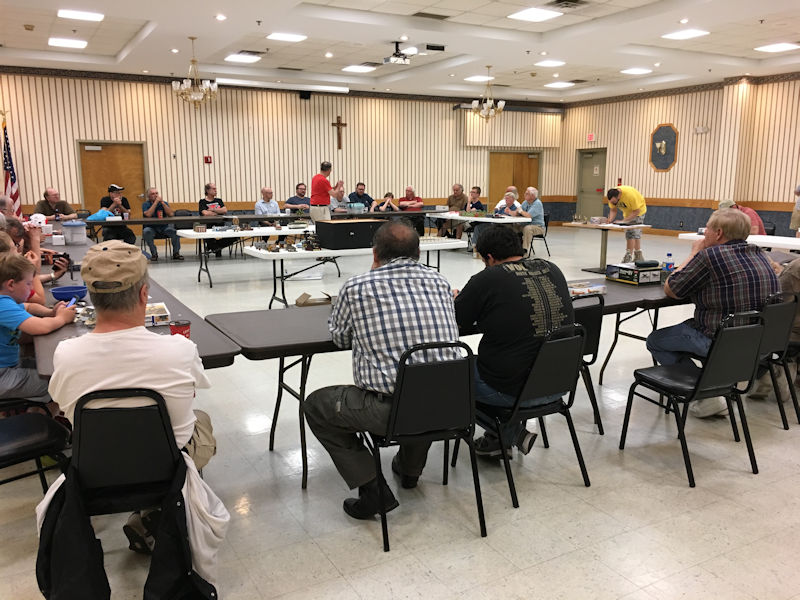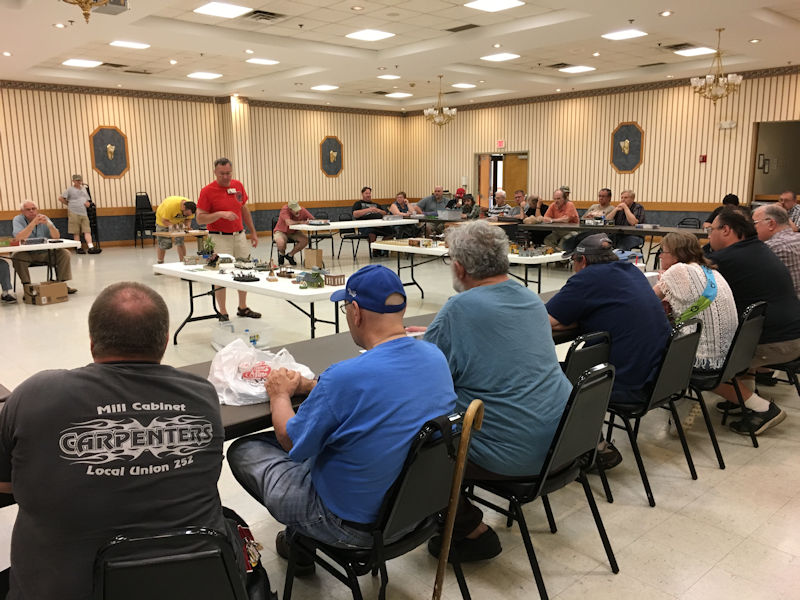 Thanks to Bob Conshafter for handling the tables, and to Bill Borkowski for the photography.